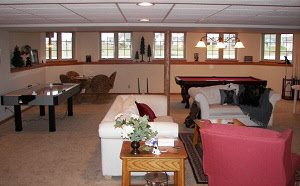 Reality Construction turns your dreary basement into a dream rec room or man cave.
West Bend Rec Room Remodeling and Finishing
West Bend, Wisconsin's Reality Construction, LLC basement finishing and remodeling services will customize your space to meet your lifestyle and needs.
From large open spaces for children to play to a private office area or a custom home theater system, exercise room, or a wet bar, depend on Reality Construction LLC for an amazing, one-of-a-kind basement. We will match woodwork, doors, and wall finishes to create a flawless area which perfectly matches the rest of your home. Many customers pair our basement remodeling services with our superb Milwaukee kitchen remodeling services for an amazing home.
Our gallery of recently completed rec rooms can give you an idea on the quality of our basement remodeling work. We do basement remodeling in Waukesha and Milwaukee and north to Washington County. No other basement finishing and remodeling contractor in Wisconsin takes better care to make your rec room fit your personality and your needs. Click any image to see a larger view and read more about the specific Southeastern Wisconsin basement remodeling work done.
Mequon Basement Renovations for You and Your Family
Custom basement design and construction for homeowners in the Milwaukee area.
Home contractors at Reality Construction LLC build beautiful rec rooms and basements you can escape to for leisure after a hard day's work. We can create large open areas for pool or foosball tables, or construct underground bars with custom cabinetry, countertops and recessed lighting.
Our home remodelers can build you an entertainment room and install a fireplace to set a relaxing ambiance, or install attractive stair walls or railings to descend into your foyer and give your basement stunning visual appeal.
No matter your unique requirements, the professionals at Reality Construction are there to meet them. Be creative! Our home construction contractors love to build unique living spaces to make your home one of a kind.
Ideas for Turning Your Unfinished Basement into a Man Cave
You've moved into your house, and it's starting to come together. The kitcen's all set, the bathroom decor meshes beautifully, and you've got the recliner placed perfectly in front of your plasma screen in the living room.
But there's something missing. Your refuge. The unfinished man cave in your basement. You need a place you and your friends can hide away and watch sports or sneak in a drink or two. Check out a few ideas for your man cave to get an idea of what's possible for your Milwaukee home. Our basement remodelers have the experience and skills to turn your small basement into your favorite escape after a hard day's work.
Wisconsin Basement Remodelers Make Your Dream a Reality
When you work with Reality Construction, you don't have to worry about a salesman cutting you a quick deal and pushing you on add-ons later. Our quoted price is our final price. You will work directly with our owners to build the exact design you're looking for. Wisconsin customers agree that Reality Construction provides the highest quality services at the lowest price.
Our advanced 3D modeling technology allows you to see your dream basement, kitchen or bathroom in its final form before we begin the project. Every step of the way, Reality Construction makes renovating your home as easy as possible. Contact us today and begin building the home of your dreams.
For more information on our Wisconsin home remodeling services, contact the Milwaukee home remodeling contractors at Reality Construction, LLC today.
Phone: 262-502-3526
Cell: 414-881-3070