Tips From Southeastern Wisconsin's Home Remodeler Of Choice
If you're looking to sell your home or just simply want an update, Reality Construction LLC has the expertise you need to increase the appeal and value of your home. Considering what projects will protect your dollars more than others is essential. That's why we've listed some of the best home remodeling ideas that can increase the value and appeal come sale time below.
Contact us for a FREE ESTIMATE
Remodel Your Kitchen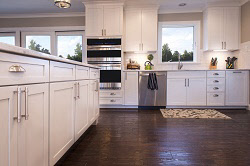 The kitchen is considered the hub of the home. A proper kitchen should be the most updated room in your house. Remodeling your kitchen offers the greatest amount of return and is one of the biggest contributors to a home's value. Since the kitchen is where you spend most of your time so why not make it the best part of your home? Whether it's an open concept design with custom cabinetry or additional updates like a new backsplash or hardwood floors, remodeling your kitchen will be an investment worth your time and money.
Make Those Long Overdue Bathroom Upgrades
Remodeling your bathroom(s) is an affordable way to add significant value to your home. Being one of the most used rooms in the house, the bathroom undergoes a heavier amount of wear and tear. Old sinks, scuffed up counters, & leaky bathtubs all can greatly diminish the value of an otherwise magnificent home interior. Reality Construction LLC can tackle all of your visions accurately and affordably. We'll help you build your dream bathroom setup, one with the functionality and appeal that can be appreciated.
Finishing your Basement
A remodeled basement can be the icing to a sale or provide that extra space a growing family desperately needs. Finishing your basement can bring a new element into the interior design of your home, one that guests will admire. The possibilities are truly endless when it comes to remodeling your unfinished basement into an elegant and usable space.
From adding a custom wet bar and bathroom to creating a basement mother-in-law suite for additional family guests, our basement remodelers will design and build the perfect basement while ensuring all additions are up-to-code.
Full Renovation Solutions Done Right In Southeastern Wisconsin
For full renovation's trust Reality Construction LLC to get the job done right. With years of experience expertly transforming homes one room at a time, we are Wisconsin's leading home remodeling contracting company.
For more information on our Wisconsin home remodeling services, contact the Milwaukee home remodeling contractors at Reality Construction, LLC today.
Phone: 262-502-3526
Cell: 414-881-3070