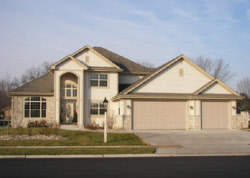 Customers all over SE Wisconsin rave about Reality Construction's remodeling services.
Wisconsin Customers Agree: Reality Construction Provides Outstanding Remodeling Service
Time and time again, Reality Construction performs the best remodeling services in Southeastern Wisconsin, from Mequon, to West Bend, to Menomonee Falls and all around the greater Milwaukee area.
Remodeling professionals at Reality Construction give you honest service with the utmost integrity, working with you from start to finish to build the kitchen, bathroom, basement or rec room of your dreams. No other home contractor in the Milwaukee area will work harder to make you a happy customer.
Satisfied Customers Report Excellent Results
"The workmanship is superb and we were so pleased that your crew left the area neat and clean at the end of each work day. Your professionals were polite, trustworthy, and more than competent."

Tom & Kathleen
Brookfield, WI

"Reality Construction is professional, timely and presented a very well thought out design and bid for our project. We also continue to be impressed with the high quality materials that were used for the project. The end result is one we can be proud of."

Paul & Melissa
Port Washington, WI

"The workmanship and quality of materials appear to be top notch for the cost of the project, which was right in line with other quotes we received. We decided to go with Reality Construction mainly because of their professionalism, eagerness to listen to our needs, and comfortable demeanor."

Michelle & Bill
Milwaukee, WI

"Our new kitchen is exactly what we had envisioned and more. It looks beautiful. If anyone we know is in need of a contractor, we know that we'll definitely recommend Reality Construction."

Phil & Josie
Muskego, WI

"I recently had insurance work done at my house by Reality Construction and I am pleased with the work they did. They replaced the wood flooring in several rooms of the house after it had been water damaged. Jennings and the rest of the company did a great job working with my insurance company, providing estimates, and letting me know the progress as the project was being completed. I am very happy with the finished product and would absolutely recommend them for work in your home."

Aaron

Mequon Home Contractors Make Your Dream a Reality
Want to be one of the satisfied customers above? Contact our home remodeling professionals at Reality Construction today and see how we can build the home renovation project you've always wanted—at the highest quality and lowest cost.