FREE Estimates on Full Bathroom Renovations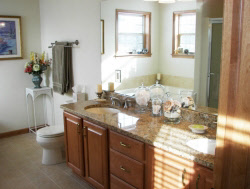 Milwaukee bathroom remodelers install custom flooring, cabinets, countertops, and much more.
From getting the building permits to the perfect countertops and everything in between, Reality Construction helps you create a dream bathroom for your greater Milwaukee area home. We can handle all the details from initial consultation and design planning to material ordering and final construction.
Whether you like an efficient space or something dramatic, our bathroom remodeling contractors make it happen. Reality Construction's time-efficient staff is here to help to make your dream a reality. Offering a wide variety of remodeling services to improve any part of your home.
Custom Remodels of Bathroom Interiors
We can custom design the bathroom you've always wanted, including the installation of cabinets, sinks, countertops, flooring, fixtures, bathtubs/showers, mirrors, & more! No other bathroom remodeling company in southeastern Wisconsin takes greater care to meet your needs in all phases of the remodeling experience like Reality Construction.
See our bathroom remodeling gallery of recently completed projects for inspiration or to get a taste of the Reality experience you can look forward to enjoying.
Included in Bathroom Renovations: Bathtubs & Showers Conversions
Ever wanted to have a custom bathtub or shower to look forward to every day? With your complete bathroom remodel, our designers will work with you to turn your old tub into a stunning new walk-in shower or vice versa. Our Milwaukee area remodelers can provide a full range of bathroom renovation services.
**Reality Construction does not offer standalone shower/bathtub renovations. We'll gladly accommodate any special requests for any customer working with us on a full-scale renovation project.
Updated Bathrooms Increase Home Value
Renovating a bathroom can increase your Milwaukee area home's value by over 60% of the project's cost. Whether you plan on staying in your house for decades to come or are thinking of moving in the future, updating a restroom is an excellent investment. For older homes with inadequate or worn down bathrooms, adding a second has attractive benefits to potential buyers including:
Usable space for growing families
Improved privacy
Accommodations for guests
An added bathroom will attract a greater range of buyers and make getting a higher selling price easier.
Milwaukee Home Designers Make Your Bathroom Remodeling Dream a Reality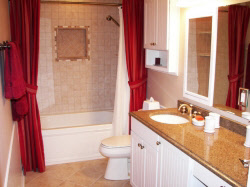 Reality Construction creates beautiful new bathrooms, with custom flooring, tiling, cabinetry, and more.
If you have a creative design idea for your kitchen, bathroom, or basement, our Milwaukee area custom home designers are eager to make it happen. We love the challenge of creating unique and memorable rooms clients will enjoy for years to come. From start to finish, we'll work with you to ensure your project is built exactly as intended.
Our 3D modeling software makes viewing and approving the finished product before construction begins easy. We never push add-on sales or services after the fact. See our reviews or contact us to get started building your dream bathroom with a FREE estimate. Your home remodeling reality will be better than you can imagine with Reality Construction.
For more information on our Wisconsin home remodeling services, contact the Milwaukee home remodeling contractors at Reality Construction, LLC today.
Phone: 262-502-3526
Cell: 414-881-3070
Reality Construction's Contractors And Designers Serve The Greater Milwaukee Area And Southeastern Wisconsin:
Allenton
Belgium
Brookfield
Brown Deer
Fredonia
Glendale
For more information on our Wisconsin home remodeling services, contact the Milwaukee home remodeling contractors at Reality Construction, LLC today.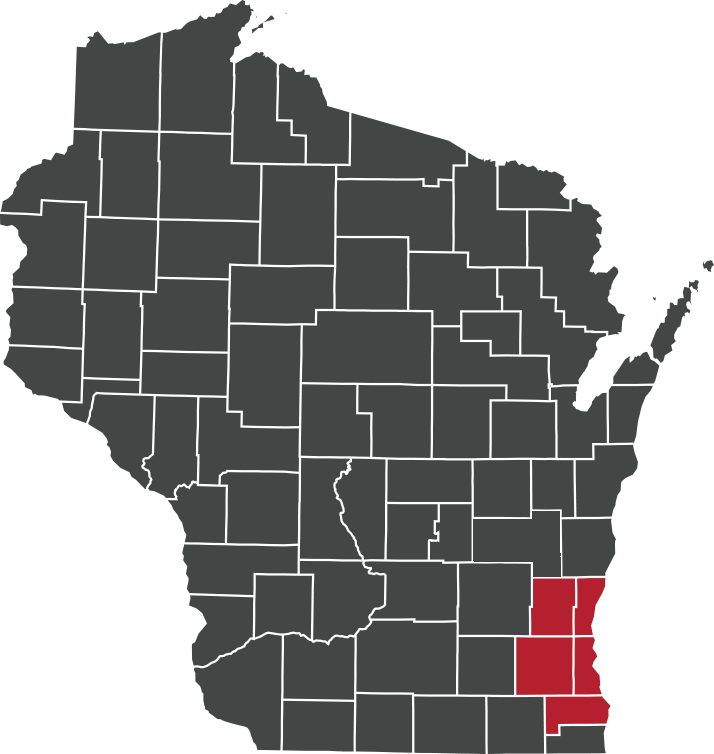 Our Home Remodeling Process

Step 1
Free Consultation
Initial stage of the home remodeling process, where the homeowner meets with the remodeling team to discuss their ideas and goals for the project. The team will conduct a walkthrough of the home, take measurements, and provide an estimate of the project's cost and timeline.

Step 2
Pricing & Planning
During this stage, the remodeling team will work with the homeowner to finalize the project plan, including materials, design elements, and budget. They will provide a detailed proposal outlining the scope of work, timeline, and payment schedule.

Step 3
Renovation Stage
During the renovation stage, the construction work takes place, and the team will collaborate with the homeowner to minimize disruption to their daily routine. They will oversee the project, from demolition to finishing touches, ensuring quality workmanship at every step, and completing the project on time and within budget.

Step 4
Quality Assurance
Once the renovation is complete, the team will conduct a final walkthrough with the homeowner to ensure they are satisfied with the finished product. They will also address any concerns or issues that arise and make any necessary adjustments.