Wisconsin Bathroom Remodeling and Design Contractors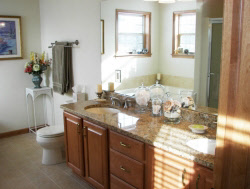 Milwaukee bathroom remodelers install custom flooring, cabinets, countertops and much more.
From getting the building permits, to getting the perfect countertops and everything in between, Reality Construction LLC bathroom remodeling helps you create your dream bathroom in your greater Milwaukee area home. We handle all details including installing fixtures, cabinets, flooring, and hardware.
Whether you would like an efficient space or something dramatic, our Milwaukee, WI bathroom remodeling contractors make it happen. Reality Construction LLC's time-efficient bathroom remodeling staff is here to help to make your dream bathroom a reality. Expand on your bathroom remodel—our home construction experts provide a wide variety of remodeling services to improve any part of your home.
Your Home Remodeling Reality Will Be Better than You Can Imagine with Reality Construction
Custom Cabinetry, Vanities, Mirrors and Sinks for Bathroom Remodels
Browse our gallery of recently completed bathroom remodeling projects for inspiration or an for an example of the quality craftsmanship inherent in our bathroom remodeling work. We remodel bathrooms in Waukesha and Milwaukee and all the way north to Washington County - click any image to see a larger view and read more about the specific bathroom remodeling work done.
No other bathroom remodeling company in Milwaukee or southeastern Wisconsin takes greater care to meet all your needs in all phases of bathroom remodeling projects.
Increase the Value of your Home with an Updated Bathroom
Whether you plan on staying in this house the rest of your life or you're thinking of moving in the next few years, updating the bathroom is an excellent investment. As long as the rest of the home is in good shape, a bathroom remodel is often one of the best ways to improve the resale value of your home.
Many buyers enjoy the personality of older homes but are put off by the number of bathrooms or their outdated condition. Adding a second bathroom to an older home attracts more buyers and gets you a higher sale price.
Your Home Remodeling Reality Will Be Better than You Can Imagine with Reality Construction
Milwaukee Home Designers Make Your Remodeling Dream a Reality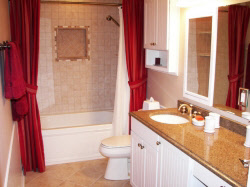 Reality Construction creates beautiful new bathrooms, with custom flooring, tiling, cabinetry and more.
If you have a creative design idea for your kitchen, bathroom, rec room, basement, or any other room in your home, our home designers are eager to help make it happen. We love a new challenge, and love creating unique and memorable rooms in your home. Our home contractors work with you from start to finish to ensure your project is built exactly as you intended.
You may view your new design before we even begin construction utilizing our highly advanced 3D modeling system. Before we commit to your project, we make sure you are absolutely comfortable with the work to be done, and will never push add-on sales or services after the fact.
Customers all over southeastern Wisconsin report positive experiences with our home contractors. Contact us today and get started building the home of your dreams.
Our bathroom remodeling designers and contractors serve all across southeastern Wisconsin:
| | | | |
| --- | --- | --- | --- |
| Milwaukee | West Allis | Wauwatosa | St. Francis |
| Shorewood | Waukesha | Whitefish Bay | Pewaukee |
| New Berlin | Muskego | Franklin | Racine |
| Delafield | Menomonee Falls | Mequon | Oconomowoc |
| | | | |
| --- | --- | --- | --- |
| Kenosha | Port Washington | Whitewater | Oak Creek |
| Racine | West Bend | Burlington | East Troy |
| Hartford | Watertown | Raymond | Caledonia |
For more information on our Wisconsin home remodeling services, contact the Milwaukee home remodeling contractors at Reality Construction, LLC today.
Phone: 262-502-3526
Cell: 414-881-3070