FREE Estimates on Full Bathroom Renovations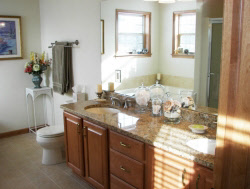 Milwaukee bathroom remodelers install custom flooring, cabinets, countertops, and much more.
From getting the building permits to the perfect countertops and everything in between, Reality Construction helps you create a dream bathroom for your greater Milwaukee area home. We can handle all the details from initial consultation and design planning to material ordering and final construction.
Whether you like an efficient space or something dramatic, our bathroom remodeling contractors make it happen. Reality Construction's time-efficient staff is here to help to make your dream a reality. Offering a wide variety of remodeling services to improve any part of your home.
Custom Remodels of Vanities, Flooring, Tubs & More
We can custom design the bathroom you've always wanted, including the installation of cabinets, sinks, countertops, flooring, fixtures, bathtubs/showers, mirrors, & more! No other bathroom remodeling company in southeastern Wisconsin takes greater care to meet your needs in all phases of the remodeling experience like Reality Construction.
See our bathroom remodeling gallery of recently completed projects for inspiration or to get a taste of the Reality experience you can look forward to enjoying.
Bathtub & Shower Conversions
Ever wanted to have a custom bathtub or shower to look forward to every day? Our designers will work with you to turn your old tub into a stunning new walk-in shower or vice versa. Our Milwaukee area remodelers can provide a full range of bathroom tub related renovation services including:
Bathtub or shower replacements
Bath liners
Bath surrounds
Updated Bathrooms Increase Home Value
Renovating a bathroom can increase your Milwaukee area home's value by over 60% of the project's cost. Whether you plan on staying in your house for decades to come or are thinking of moving in the future, updating a restroom is an excellent investment. For older homes with inadequate or worn down bathrooms, adding a second has attractive benefits to potential buyers including:
Usable space for growing families
Improved privacy
Accommodations for guests
An added bathroom will attract a greater range of buyers and make getting a higher selling price easier.
Milwaukee Home Designers Make Your Remodeling Dream a Reality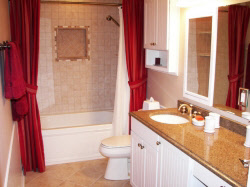 Reality Construction creates beautiful new bathrooms, with custom flooring, tiling, cabinetry, and more.
If you have a creative design idea for your kitchen, bathroom, or basement, our Milwaukee area custom home designers are eager to make it happen. We love the challenge of creating unique and memorable rooms clients will enjoy for years to come. From start to finish, we'll work with you to ensure your project is built exactly as intended.
Our 3D modeling software makes viewing and approving the finished product before construction begins easy. We never push add-on sales or services after the fact. See our reviews or contact us to get started building your dream bathroom with a FREE estimate. Your home remodeling reality will be better than you can imagine with Reality Construction.
For more information on our Wisconsin home remodeling services, contact the Milwaukee home remodeling contractors at Reality Construction, LLC today.
Phone: 262-502-3526
Cell: 414-881-3070
Reality Construction's Contractors And Designers Serve The Greater Milwaukee Area And Southeastern Wisconsin:
Allenton
Belgium
Brookfield
Brown Deer
Cedarburg
Franklin
Fredonia
Germantown
Glendale
Hartford
Hartland
Hubertus
Jackson
Kewaskum
Lisbon
Menomonee Falls
Mequon
Merton
Milwaukee
New Berlin
Oak Creek
Oconomowoc
Pewaukee
Port Washington
Racine
Richfield
Saukville
Shorewood
Sussex
Waukesha
Wauwatosa
West Bend
Whitefish Bay
For more information on our Wisconsin home remodeling services, contact the Milwaukee home remodeling contractors at Reality Construction, LLC today.