Before Reality Construction
After Reality Construction
FREE Estimates on Full Kitchen Remodels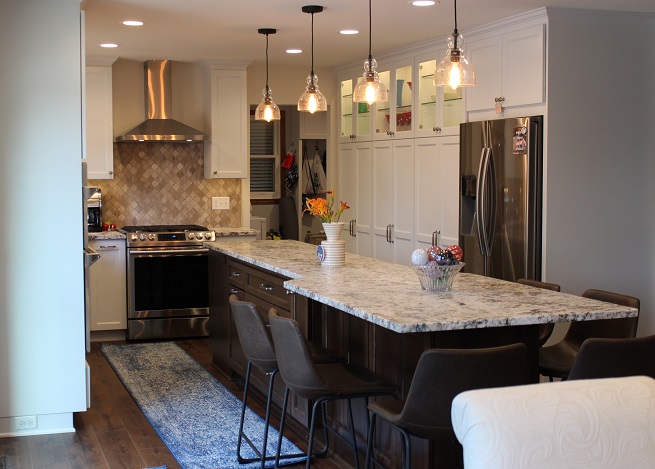 Kitchen remodelers at Reality Construction install custom-designed countertops, cabinets, and lighting.
From construction permits and custom countertop installations to unique cabinetry and everything in between, Reality Construction's Milwaukee kitchen remodelers can create your dream cooking space. We handle all the details, including installing fixtures, cabinets, flooring, and hardware.
Whether you're looking for an efficient space or something dramatic, we can make it happen. Our efficient staff is here to make transforming your kitchen as hassle-free as possible. Our specialty is remodeling services for kitchens, bathrooms, and basements.
Contact us for a FREE ESTIMATE
Custom Counters, Cabinets, and Backsplashes Built by Milwaukee Designers
Reality Construction builds kitchens to your exact specifications. We are proud to construct custom designs matching our creative customers' visions for their homes. Nothing brings us more satisfaction than seeing a construction project come to fruition as a beautiful, functional space.
Some of our creative options include granite or quartz countertops, cabinets made of maple, ash, or oak, and backsplashes of various materials and designs. If you have a specific vision in mind, we help you make it a reality.
9 Creative Ideas for Remodeling Your Small Kitchen
Does your kitchen feel a tad too tiny? A little remodeling might be in order. But you're on a budget, you say. No matter. Whether you need more counter-surface space or a remedy for your scarcity of storage space, there's always a solution that won't cause a problem for your checkbook. Check out these 9 budget kitchen remodeling ideas to turn your small-ish cooking space into something super—without breaking the bank!
Milwaukee Area Kitchen Remodelers Design Using 3D Modeling Technology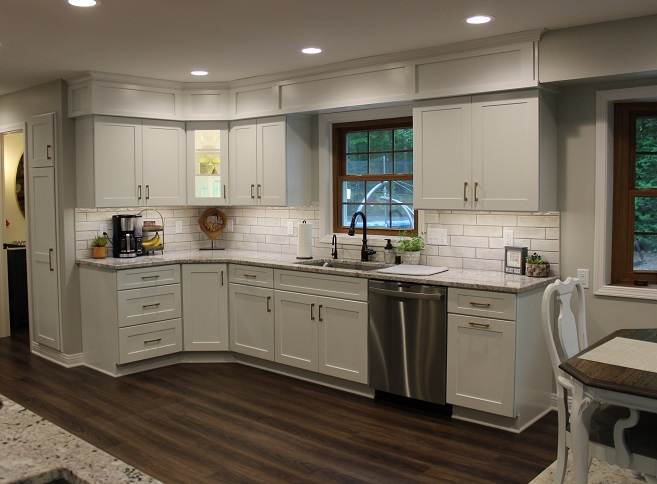 Our Wisconsin remodelers create up to 30% more space in your kitchen.
Reality Construction helps you design your home by using advanced 3D modeling to give a perfect visual of your kitchen project. When you work with the remodeling experts at Reality Construction, you know exactly what you're paying and what you're getting for it. You work directly with our owners throughout the entire process—not some shady salesman who will try to push add-on sales.
Many customers around southeastern Wisconsin report positive testimonials about Reality Construction's reputable home contractors.
Our gallery of recently completed kitchen remodeling projects will give you an idea of the inherent quality of our renovation work. We remodel in Waukesha and Milwaukee area and all the way north to Washington County - click any image to see a larger view and read more about the specific work done on the project.
No other remodeling contractor, home remodeler, or renovation company in southeastern Wisconsin takes greater care to meet all your needs throughout every phase of the kitchen process.
For more information on our Wisconsin home remodeling services, contact the Milwaukee home remodeling contractors at Reality Construction, LLC today.
Phone: 262-502-3526
Cell: 414-881-3070
Reality Construction's Contractors And Designers Serve The Greater Milwaukee Area And Southeastern Wisconsin:
Allenton
Belgium
Brookfield
Brown Deer
Cedarburg
Franklin
Fredonia
Germantown
Glendale
Hartford
Hartland
Hubertus
Jackson
Kewaskum
Lisbon
Menomonee Falls
Mequon
Merton
Milwaukee
New Berlin
Oak Creek
Oconomowoc
Pewaukee
Port Washington
Racine
Richfield
Saukville
Shorewood
Sussex
Waukesha
Wauwatosa
West Bend
Whitefish Bay
For more information on our Wisconsin home remodeling services, contact the Milwaukee home remodeling contractors at Reality Construction, LLC today.