Regain Your Space, Add Value to Your Home
Stop using the basement as a huge closet! Turn the most unused part of the house into a place you never want to leave. Anybody can settle for their recliner wishing they had another space to claim.
Reality Construction is southeastern Wisconsin's premier basement remodeling contractor. Check out a few basement remodeling ideas from some of our finest completed projects. We create man caves your friends will envy and your enemies will admire.
1. The Bar Man Cave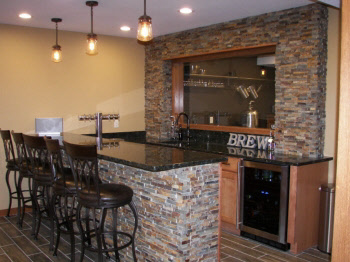 Fulfill your twenty-year-old self's dreams of owning your own bar where you can practice all the mixology you can imagine. Instead of life's escape being at the closest tavern, bring that getaway feeling to your basement. Anyone looking to install a bar and cabinet collection in their home can trust the quality craftsmanship from Reality Construction.
We offer your man cave bar with options of wood countertop to other options such as quartz or granite. We also can install tile flooring trouble-free so you can entertain family and friends or find a peaceful place where you can enjoy the quiet time.
Adding some rec room-type games such as a pool table or air hockey table can give a basement remodel a spacious and open feel to relax and enjoy.
2. Movie Theater Man Cave
You can recite Mel Gibson's speech from Braveheart without missing a word. You mumble under your breath with every Schwarzenegger line in Predator. You're the go-to man for all movie trivia.
Back it up.
The pile of DVDs you have been collecting for years is not going to get any smaller, so get some use out of them by creating your own home movie theater.
This man cave basement remodel will be focused entirely around the T.V. or the projection screen. To make up for lost space with the open theater layout, Reality Construction offers semi-custom toffee maple cabinetry that will wrap from one side of the screen underneath to the other side. This also provides ample room for the elaborate surround system that will inevitably be installed.
3. Essential Tips for a Man Cave Gym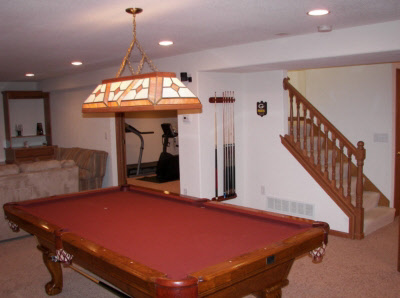 While some find comfort on the couch, others need to blow steam off by diving into health and fitness. Not being able to get to a gym on a regular basis is a common problem and a man cave home gym can eliminate that hassle. In no time, you'll be back in shape like your high school football days, or closer at least.
Necessary gear for a man cave gym:
Treadmill
Dumbbells & Kettlebells
Bench Press
Leg Press
Full bar for after the workout
Before you bring in your equipment, allow the remodeling experts at Reality Construction to replace the old flooring or carpeting with heavy-duty flooring that can serve as a supportive gym floor. We also would recommend replacing the walls to create a space where you will not be distracted. Finally, better brighter light fixtures will be less stressful and highlight your equipment.
4. Sports Fan Paradise Man Cave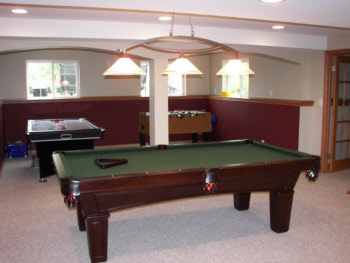 Become the Super Bowl destination for your friends and family for years to come. Unlike the movie theater idea, this man cave might be centered on as many as four televisions depending on how many games are on at the same time. The more fans you can fit in your man cave, the better chance your team has at making the playoffs. Everyone knows that.
Memorabilia will be another focal point of this remodel, and our Reality Construction basement remodelers help you create space for your keepsakes. Specific lighting can be installed to create an optimal viewing experience, and accent lighting can be positioned to show off the framed jerseys on the wall. Semi-wood and glass transparent cabinets can also protect valuable signed items while still being the envy of your friends.
For the Dream Man Basement Renovation, Contact Reality Construction
Our Basement Remodelers spend every day providing solutions to the problem of wasted unfinished basement problems. Trust our Wisconsin basement remodelers to generate a plan and complete your dream man cave into an actual reality. No project is too crazy for us to tackle.
For more information on our Wisconsin home remodeling services, contact the Milwaukee home remodeling contractors at Reality Construction, LLC today.
Phone: 262-502-3526
Cell: 414-881-3070