Turn Your Kitchen Dreams Into a Reality—done for less!
Contact us for a FREE ESTIMATE
You've always wanted to renovate your kitchen and create the most possible storage and usability for the space, but the cost has kept you from seriously considering it. Maybe your kitchen is on the small side, and you're wondering if the investment is really worth it. There are dozens of seemingly "little" additions you can make to your kitchen for a personalized and unique look. The best news—they're all fantastic options for buyers on a budget. Here's just a handful.
1. Kitchen Island with Seating and Extra Storage – The Trifecta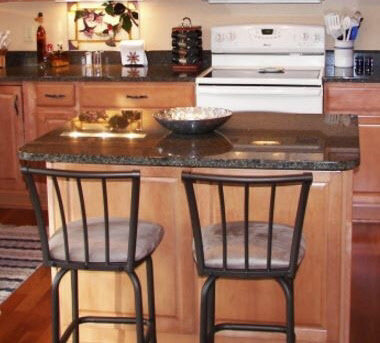 A kitchen island is always a great way to add counter space to a small kitchen, and storage space too. If there's one thing that every small kitchen needs, it's more usable countertop space. This small kitchen island provides extra counter space, extra storage, and extra seating!
2. Counter Overhang with Stool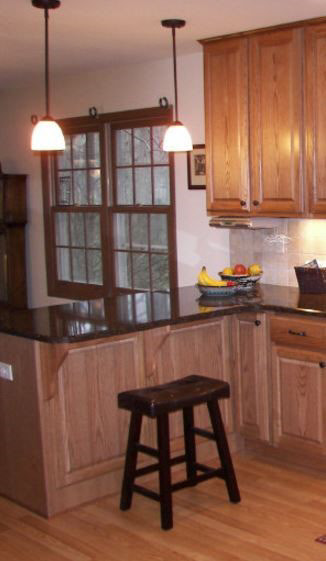 This overhang on the counter allows the baker in this kitchen to have a seat while prepping culinary goodies. Cabinets go all the way up to the ceiling for maximum storage of baking supplies. Designing cabinets around the needs of your home is our specialty.
3. Corner Cabinets to Maximize Kitchen Storage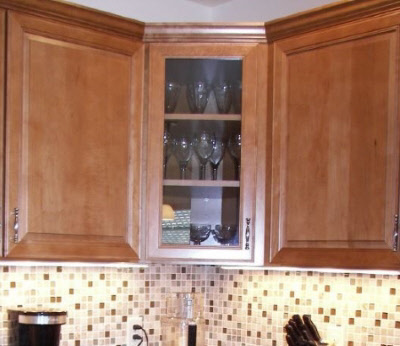 This corner display cabinet maximizes space in the nooks and crannies of this otherwise small kitchen. Our designers have extensive experience turning your kitchen into the most usable space imaginable.
4. Under Cabinet Lighting and Creative Hanging Wine Glass Holders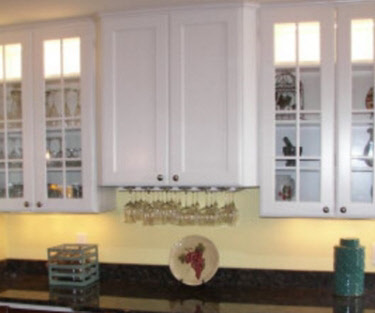 If you're a serious wine aficionado and you need even more space for wine glasses, these under cabinet slots are perfect. Supplement the hanging wine glass holders with some intelligently installed under cabinet lighting to add appeal for guests.
5. Pull-Out Spice Rack Base Cabinets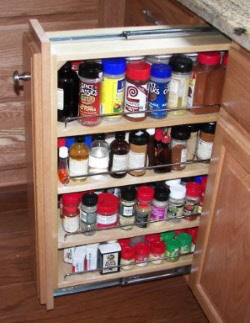 This narrow space was converted into the ultimate rollaway spice rack, so the spices you need are never too far away.
6. Microwave Wall Cabinet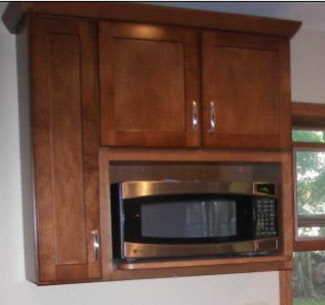 Save counter space by constructing a cubby hole for your microwave and building it right into your kitchen cabinets.
7. Tall Oven and Microwave Cabinet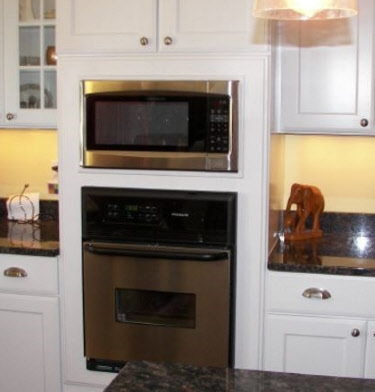 …or build your microwave, along with your oven, directly into a wall of cabinetry. At least three feet of counter space is preserved using cabinets for built-in appliances. This design also features under cabinet lighting.
8. Wall Cabinet with Refrigerator Cut-Out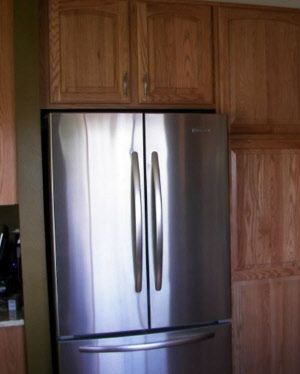 Inserting your refrigerator into a cabinet cut-out allows for increased storage and versatility. We'll help you design your kitchen to feature the style and usability wanted, all to make organization easier.
9. Raised Countertops with Power Outlets

This countertop has a few inches of height added behind the stovetop to create a breakfast bar, enough to add some horizontal power outlets. Combining necessities with style in the kitchen is our specialty.
For the Most Budget-Friendly Kitchen Renovation, Contact Our Kitchen Remodelers
Reality Construction has spent years finding the most cost-conscious solutions for customers throughout southeastern Wisconsin. We've installed everything you see above. Our Milwaukee kitchen remodelers can design and build the budget kitchen perfect for you, and we love new ideas.
Contact West Bend home contractors at Reality Construction, LLC to get the absolute most out of your kitchen space.
For more information on our Wisconsin home remodeling services, contact the Milwaukee home remodeling contractors at Reality Construction, LLC today.
Phone: 262-502-3526
Cell: 414-881-3070