Brookfield Bathroom Remodeling
Bathroom Remodeling Brookfield WI
Dear Gina and Mike,
We are writing to let you know how very pleased we are with the remodeling of our master bathroom. Your company, Reality Construction, handled every detail of the project from start to finish in a timely and very professional manner.
After we selected the components such as vanity top, plumbing fixtures, flooring, lighting, etc., your able crews took over and gave us exactly the bathroom we had envisioned. We went from an outdated, unattractive room to a finished product that not only looks inviting but also functions efficiently.
The workmanship is superb and we were so pleased that your crew left the area neat and clean at the end of each work day. Your professionals were polite, trustworthy, and more than competent.
After we had used the shower for a few months, there was a minor problem with the door closure. We called you and the installer was at our home within a few days and fixed the problem to our complete satisfaction. That's what we call standing behind your reputation of outstanding service. We have told many people about your great company and will continue to do so.
Tom and Kathleen Rave
Brookfield, WI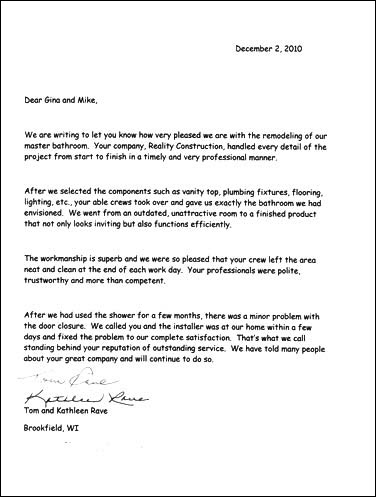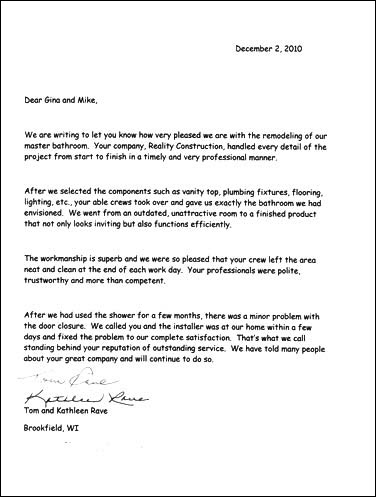 Click on the image to expand